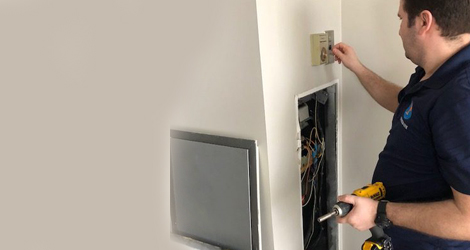 PREMIER ONE's fan coil repair service is your go-to resource for all your repairs and maintenance needs. No job is too big or complicated for our crews to handle. We have access to a wide range of quality components and parts for all types of fan coil units. Our fan coil repairs and part replacements are performed in accordance with fan coil manufacturers' specifications. We obtain our fan coil components and supplies from large supply companies in Canada that are known for quality parts and supplies.
Type of Repairs:
Complete Fan Coil Insulation Replacement
Installation of all brands of Digital And Wifi Thermostat Installation
Installation of all types of Actuator Valves
Installation of Body Valves
Installation of new Coils (450-600 CFM)
Manufacture and installation of Custom Condensate Tray Pans (Galvanized & Stainless Steel)
Installation of Motor & Blower Assembly plus ECM Motors
Relays & Aqua-Stats
Complete Rewiring of existing Fan Coil Unit plus Mother Boards and Much More…….
PREMIER ONE completes thousands of fan coil maintenance projects annually, while providing the highest standard of performance throughout its in-suite services.
Our Maintenance Program:
Diagnose fan coil system and thermostat performance by our experienced technicians
Remove FCU cover/ baffle and vacuum interior of unit
Vacuum coil fins (with soft brush) and motor/blower assembly
Perform water flow test on the condensate drip pan to check if there is any blockage causing poor drainage
Check the operational condition of the actuator valve, body valve, aquastat
Check airflow to ensure it is up to manufacturer specifications
Check all wiring for deterioration and performance including the motherboard
Install new filter
Clean exterior cover of the fan coil unit
Submit a daily or weekly report as required