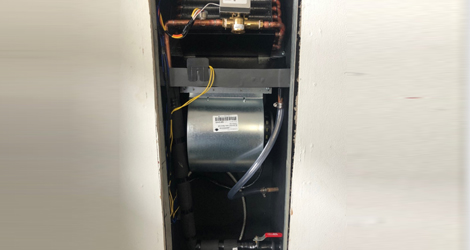 Mould and bacterial growth in fan coil units is a contributor to poor indoor air quality.
Fan coil units have become a source of concern for many condominium and apartment building owners because once mould growth occurs, the fan coil system contributes to the spread of mould spores throughout the suite.
During our fan coil maintenance service, we inspect the insulation / liner for degradation and perform a visual inspection for mould and bacterial growth.
In the event mould or bacterial growth is detected inside the fan coil unit, Premier One will indicate the issue in its inspection form, and a copy will be provided to the management office. Should this issue be noted, Premier One will advise the property management on the best course of action: a full remediation level 2, or a new retrofit unit, partial or full component replacement.
Premier One customizes the solution to best meet your needs and budget.
Mould remediation/restoration is an essential service required to be performed on fan coil units once they are 16 years and older, due to the following reasons:
Existing old fiberglass insulation gets dry and starts deteriorating.
Existing condensate drip pans are galvanized. Annual condensation causes the drip pans to rust and become damaged.
The coil system experiences high condensation and dust levels, especially during the heating and cooling seasons. The back side of the coil, coil fins and tubing become clogged by the dust and particulate matter. This problem is exacerbated by the hard water and calcium in the water. The clogging of the coil is the single largest factor that leads to significant decreases in efficiency and performance of the fan coil unit. The unit needs to run for longer periods to heat and cool the residence resulting in significantly increased hydro consumption and complaints from the residents.
The condensate drain hose gets dirty from rusted water, which will lead to a clogging of the hose, slow draining and potentially, damage to the main drainage riser.
Why Do I Need Mould Remediation
Health Concern causes (Allergies, Coughing, Asthma)
Economical damages (Majority of fan coil units have fiberglass insulation with a lifespan anywhere from 15-18 years maximum. Afterwards this material gets dry and deteriorates, causing loose particles of the fiberglass to land in the condensate drip pan. This leads to clogging and water backup, resulting in risk of flooding the suite and damaging flooring and the suites below.
Heating & Cooling Efficiency